Many have asked me about the schedule for our Kenya mission trip, so I've written a rough outline of how we'll spend our time. About five days will be spent travelling, three days on the mission field and two days resting or touring. There's a reason the Tharaka are an unreached people group. It's hard to reach them because of the terrain. See below a picture of the type of vehicle we'll use to reach them.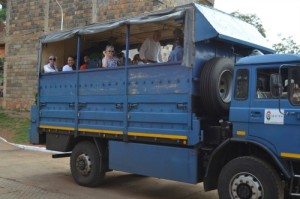 Thursday: Depart for Nashville Airport at 10:00 am.
Friday evening at 8:00 pm: Arrive Nairobi
Saturday: Orientation, shop for supplies and rest to recover from jet lag.
Sunday Morning: Depart at 7:00 A.M. and we hope to arrive at our campsite by early afternoon and set up camp. This is a picture of a typical camp site.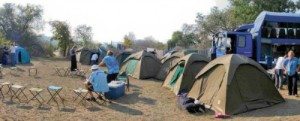 Monday:  Door-to-Door visitation around the site where the missionaries and pastor hope to plant a new church.  We will visit homes and share "Creation to Christ," the gospel, and invite neighbors to the activities of the next two days. We will form teams of a volunteer and national partner with translators.
Tuesday Morning: Vacation Bible School for the children; Afternoon: We'll offer separate classes for the women and men.  Women's topics:  women's health classes and water purification. Men's topics:  animal care and nutrition, and water purification. We'll also share the gospel in these sessions in some way.
Wednesday Morning: Vacation Bible School for the children; Afternoon: Separate Classes for the Men and Women continued. Evening: We will show the Jesus film in the afternoon or evening and offer an invitation. At some point, we will have a celebration time with our Kenyan partners to thank each other and close our project of working together.  Depending on the schedule, it could be in the afternoon or early evening.
Thursday: Morning – Break Camp and travel to a lodge and national park. This is a picture of a room. Notice there are no walls.

Friday: Morning – Photo Game Drive. Afternoon – Return to Nairobi.
Saturday: Tour Nairobi and visit elephant orphanage and depart for the airport in the evening.
Arrive Home: Sunday evening.
It may seem to some that it's too expensive to travel so far and only be able to spend three days on the mission field. However, I know that three days of camping, and working in a brutal environment is about all my aged body can withstand. I pray I can meet the challenge, but I know I'll be exhausted. I wish I could spend a larger portion of my time in Kenya on the mission field, but I'm not physically able. This is what it takes to reach an un-reached people group and the price we have to pay to take the gospel to the ends of the earth.
Romans: 10:14-15
"How then will they call on him in whom they have not believe? And how are they to believe in him of whom they have never heard? And how are they to hear without someone preaching? And how are they to preach unless they are sent? As it is written, ""How beautiful are the feet of those who preach the good news!'"
#notgoingtoAfrica #Africamission #Kenyamissions