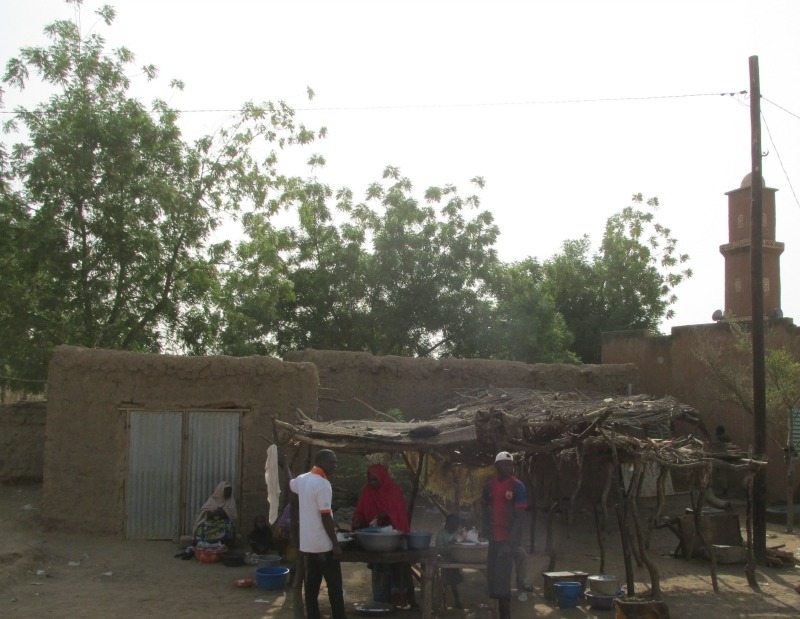 On the first day of outreach in Niger, Africa, we visited a village on the road to Namourou. I suppose the people would be considered an unreached group because of the 200 women I met, no one had previously heard the name of Jesus.  The population of the village is about 9,000.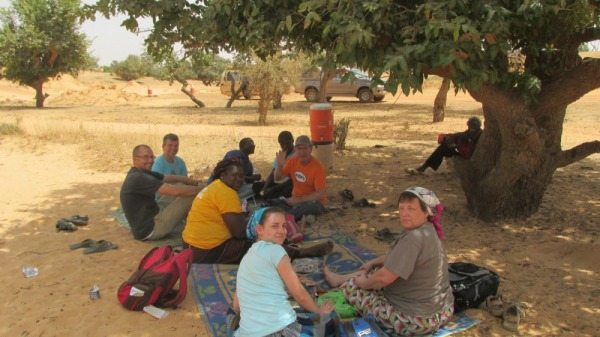 When we parked in the shade of a thorn tree at 9:30 in the morning, the temperature was already 90 degrees with a high of 100 degrees expected. This is considered a mild day in March. The teams divided into men and women. The four men were to deliver medical supplies to the health clinic, and the four women were provided supplies for the school. After our gifts were delivered, we were to visit homes and hope that we were invited to visit. After our gifts were delivered, we had nothing else to offer except the name of Jesus. We can never supply enough medicine meet the need. We cannot feed all the hungry. But we can share the name of Jesus with everyone we meet.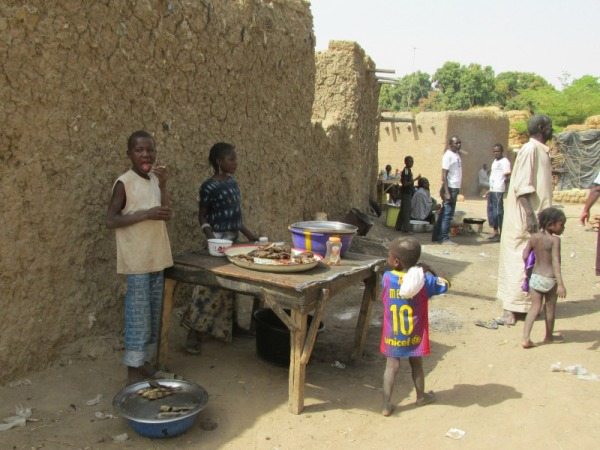 I studied my surroundings and tried to calm my fears. As we prepared to depart and enter the maze of pathways that are neighborhoods, we held hands and prayed. I was reminded of Matthew 10:12-15 "As you enter the house greet it. (13) And if the house is worthy, let your peace come upon it, but if it is not worthy, let your peace return to you. (14) And if anyone will not receive you or listen to your words, shake off the dust from your feet when you leave that house or town. (15) Truly I say to you, it will be more bearable on the day of judgment for the land of Sodom and Gomorrah than for that town. Jesus' disciples were instructed to take nothing. I had a backpack of supplies and a ride back to the air conditioned mission house. I even had fancy water bottles that would spray a mist. Unfortunately, the mister doesn't work if you freeze the water. I was terrified to enter the first compound. And then I remembered all the people at home praying for me, and suddenly I had peace.
As we trudged through the sand, I studied the mud brick buildings that probably looked the same as when Jesus walked the earth. We stopped at the first compound and were greeted. We introduced ourselves and explained that we were Christians and asked for permission to share scripture. After a tense moment of waiting for an invitation, one woman entered the building and pulled out a mat and unrolled it under a shade tree. This was the invitation for which we'd been waiting.
First we discussed the similarities between Christianity and Islam.  They agreed there is a heaven, and there is a hell, and we all want to go to heaven. When we asked the women, "How do you know whether or not you will go to heaven when you die?" They responded, "No one knows. Even religious teachers don't know." Now we had an opening to share the "Good News." We asked them, "Have you ever heard the name of Jesus?"  No one in the crowd of thirty had heard of Jesus." We held up our Bible and started at the beginning.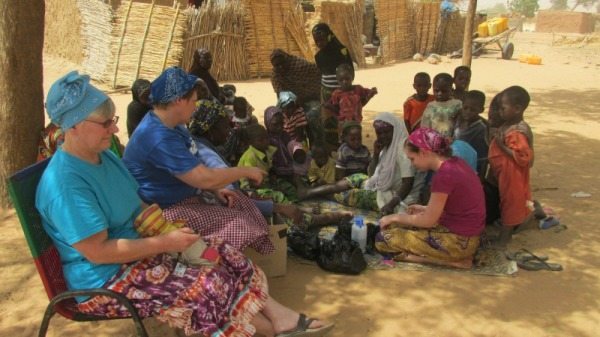 The crowd continued to grow and as we read the story of Adam's sin condemning us all.  We shared about God shutting the door to Noah's ark, and it was too late for everyone else to be saved. We told the story of Abraham being willing to sacrifice Isaac as a sin offering. And finally we explained God's love for us which he demonstrated by sacrificing his Son for our sins. These women had never been told that God loved them. They had never heard the name of Jesus. They did not know that they had a choice and that they could be assured of spending eternity in heaven if they accepted Jesus as their Lord and Savior.
We asked them if anyone was willing to believe in Jesus. There was no response. And so we prayed that the women would think about the stories we had shared. I will never know if the women we met will believe in Jesus. I spoke the name of Jesus in a place that was completely dark. I overcame my fear and sowed the seed. Only God can reap the harvest. We were welcomed everywhere we stopped, and crowds grew at every home. I will continue to pray for the women and men who heard the name of Jesus for the first time, and I will pray that others will go and boldly proclaim the name of Jesus.
I am blessed for having the experience of being a disciple in a foreign land. I am grateful to be reminded that I am completely dependent upon God all the time. I appreciate the many people who faithfully prayed for me. And I am thankful that I was able to overcome my fear. I hope I remember to trust Jesus every day.