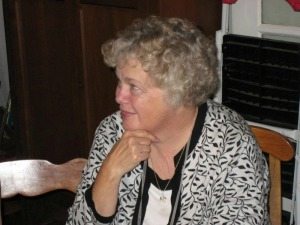 Thanksgiving lunch will be a bittersweet celebration this year because it is the first holiday without my mother-in-law, Judy. She loved the holidays and had a flair for cooking and decorating. Judy was devoted to her family, and she spoiled us rotten. Everyone's favorite recipes have always been on the menu. My preferred side dish is oyster casserole, and my father-in-law loves dressing cooked so long that it appears to be almost burnt. My brother-in-law insists on corn and coconut cake, while my husband favors pumpkin pie. No one's special request has ever been ignored.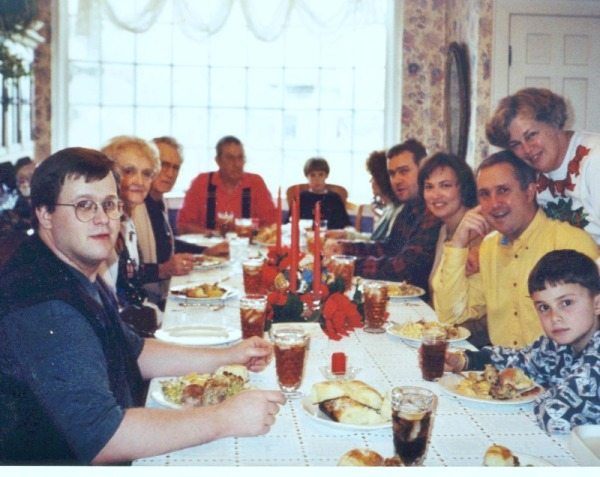 My parents both passed away a decade ago and so I realize our bruised hearts will never completely heal. When the savory flavors of Judy's recipes melt into the tender places of our hearts, it will be difficult to swallow. I know Judy would insist that we maintain traditions for the sake of my grandchildren and then for the next generation. And so I will do my best to honor my mother-in-law and offer her favorite foods to our family with the help of my daughter. She grew up cooking by Judy's side, and I am positive she can replicate her grandmother's menu better than I.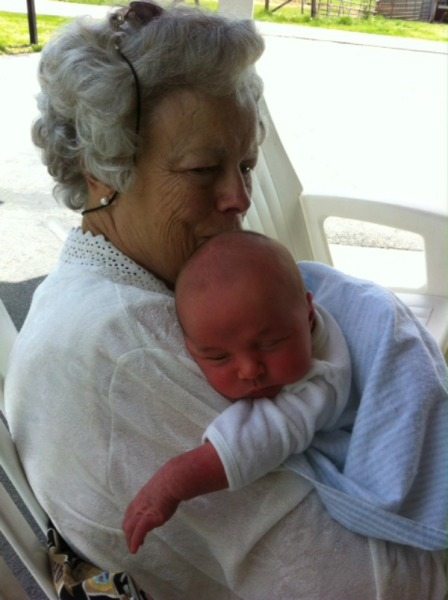 Although we've suffered a great loss, we've been given the gift of my grandson, Jacob. He arrived on Palm Sunday. It was upon his birth that I realized how severely Judy's health was failing. For years, she struggled with diabetes and heart disease. In May, we were informed that she was suffering from congestive heart failure and that our time with her was coming to an end.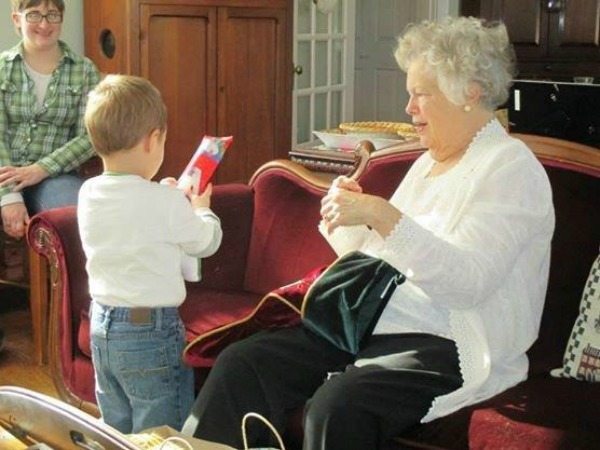 I sorted through hundreds of family photos searching for just the right one highlighting Judy wearing a beautiful apron, cooking in her kitchen. I failed in this endeavor because Judy was usually the one taking the pictures. This is a snapshot of her last Christmas with my oldest grandson Matthew. The two were enchanted with each other.
The holidays are a tender time for those of us who have lost loved ones. I am comforted by the fact that Judy knew Jesus and accepted him as her savior. I do not doubt that she is feasting at the King of King's banquet table. Close your eyes and attempt to imagine it. The crystal, the food, the wine and the light. Judy loved to savor good food, and I'm sure she's taking delight in tasting creamy mashed potatoes with butter and tiny sweet peas. I can smell the yeast rolls smothered in butter. The turkey is moist, tender and roasted to perfection. And the coconut cake is something out of this world. She is not worried about diabetes and blood sugar levels. Her suffering is over.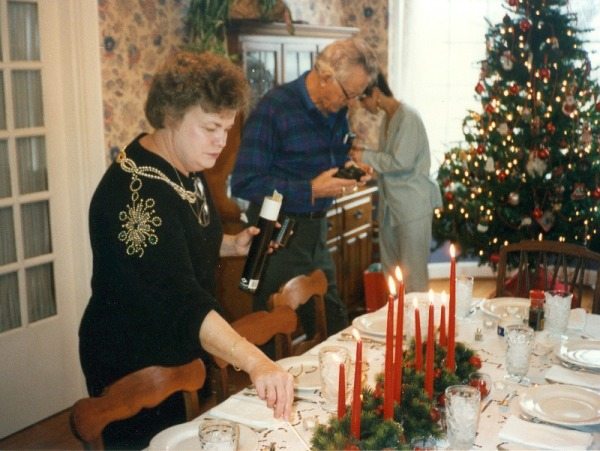 I know I'll never be able to offer a meal as delicious as Judy's because she had a gift for the art of cooking and entertaining. But I'll do my best to practice the lessons she taught me. She valued family and traditions and cherished time spent together enjoying good food. My turkey will probably be dry, and my rolls won't come close to being as tasty, but I will prepare every dish with love.
I give thanks to the Lord for Judy. I mourn her loss, but I am comforted by the knowledge that someday we will be reunited, and we will enjoy a feast together again with other family members who have gone on before us.
Psalms 30:5… Weeping may tarry for the night, but joy comes with the morning.
#FamilyThanksgiving #Weepingmaytarry #joycomesinthemorning