I've spent the week working as a crew chief at a Christian youth service camp, Camp Habitat. A coworker asked me, "Are you ever going to do nothing?" My off the cuff reply was, "I'm looking forward to that day." But I immediately regretted my thoughtless remark because I know that if I'm doing nothing, it will be because I am physically unable. I am thankful for my health and ability to serve.
Many people have disabilities and feel they can't help. But the volunteers at Camp Habitat proved that most of us can do something. Two members of our Camp Operations staff were on oxygen, and another two have physical disabilities that require them to use a walker. In the weeks leading up to Camp Habitat, they made phone calls to recruit volunteers, solicited donations, and assembled first aid kits. During the camp, they monitored who entered and exited the building and gave minor first aid. If we arrived at a job site and needed additional supplies, all we had to do was call Camp Ops., and they would send someone with the requested item(s).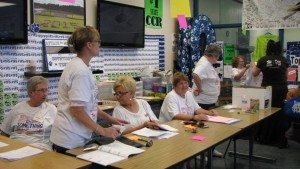 I learned that one of our crew chiefs had to take the morning off for a dialysis appointment. Roy doesn't make a big deal about his condition. When I asked him about his condition, he said, "When I was diagnosed with this illness, I was given a life sentence, not a death sentence. I decided to live my life each day to the best of my ability." I appreciate Roy giving me permission to share his comments with you. In the picture below, Roy is the gentleman standing in the back wearing the green t-shirt. He and his crew repaired the steps for this homeowner.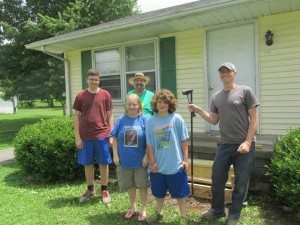 I pray I can appreciate each day, regardless of my circumstances, with the grace that Roy demonstrates daily. Anyone who spends any amount of time with Roy will see that Jesus Christ lives in his heart.
I've served with Camp Habitat for the past five years with each of the volunteers below and hope to be able to continue this activity. At the age of fifty-four, I was the youngest crew chief. I was blessed to be able to serve with Roy and other senior adults who could be home enjoying retirement and doing nothing. Instead, they've seen the value of living life to the best of their ability and serving others.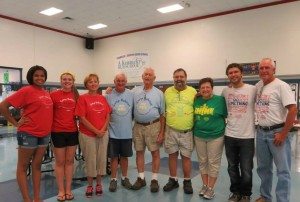 Camp Habitat has a different theme each year and this year's the motto was, Do Something. And the kids and volunteers lived up to the motto. There were eight crews comprised of four teens and one adult leader. We worked on projects such as painting, cleaning gutters, trimming shrubs, cleaning aluminum siding, caulking windows, building handrails, repairing steps, and washing windows. These eight crews worked on thirty-five home sites in our community and completed seventy-eight projects. The most important thing we did for each homeowner was to pray with them, and many of them prayed for us. I received blessings and more blessings.
I am thankful for the health and ability to participate in Camp Habitat. The homeowners were a joy to meet, the youth gave me hope for the future of our community, and the other volunteers inspired me to serve to the best of my ability. Each of us has a gift to offer, but if we don't use our talents, sometimes we lose them. Please don't squander your gifts. Look around and seek opportunities to "do something," and you will be blessed.
#camphabitat #habitatforhumanity