Last year, I had the opportunity to travel to Atlanta with a group of forty from my church. We signed up to work a shift at the Operation Christmas Child Distribution Center in Atlanta. Some refer to this as the 'shoebox ministry.'
It's always fun to travel with this group of teens. Most of these youth were my students in Sunday-School class in first grade. It thrills me to see them active and serving.
When we arrived at the hotel, God had arranged a divine appointment. I was waiting for the elevator with our group when a young man asked me, "Where are you from?"
I replied, "Franklin, Ky. We are here to work at the Operation Christmas Child Distribution Center."
His eyes sparkled.  "I was a child who received a shoe box."
Tammie was standing next to me. She is our church's Operation Christmas Child team leader. She works tirelessly through the year to collect items for the shoe boxes. Thanks to her efforts, our church put together over 700 packages.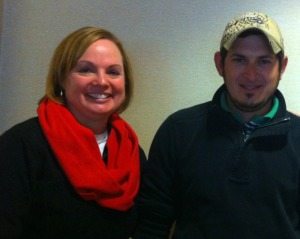 The young man introduced himself to us. "I am Renan and I am from Honduras."  I love how God pays attention to details when arranges meetings. Tammy is passionate about missions and has been called to serve in Nicaragua and Honduras. She and her family led a mission  team to Honduras in 2014.
"Every shoebox represents a person," said Renan. "When I first opened my box, I saw a note and it said, 'I love you.' I lived in a village surrounded by people controlled by alcoholism and poverty. Because of the shoebox, I learned about Jesus and his love."
"Don't worry about what to put in the box," said Renan. "Go to Walmart or the Dollar Store and pray as you shop. God will lead you. And pray over the box that a child who receives it will receive Christ."
Today Renan is married to a missionary and lives in Hattiesburg, Mississippi. I am thankful that God allowed me to be standing by Tammie's side when he arranged for us to meet Renan.
There are nine distribution centers across the United States. It's easy to work at the distribution center. First they train you. It takes about 10 minutes. There are six positions on the team. The warehouse is large but well organized. On the Saturday we worked, the distribution center processed about 108,000 shoeboxes.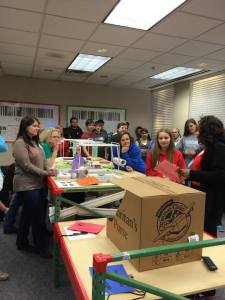 I encourage you to make a shoebox for a girl or boy. Popular items to place in the shoe box include: a toothbrush, toothpaste, hairbrush, comb, soap, washcloth, pencils, notebook, rubber balls, toothpaste, metal spoons, hard candy (candy that will not melt), plastic cups, sewing kits for older girls, and tool sets for older boys, knitted caps, ponytail holders, and small toys. I hope you'll follow Renan's advice and wander the aisles with a shoebox and pray as you fill it.
My position on the team was "inspector." I had to pull out countless bottles of hand sanitizer, liquid glue, and lotion. My trainer told me, "If it wiggles or giggles, it can't be in the shoebox."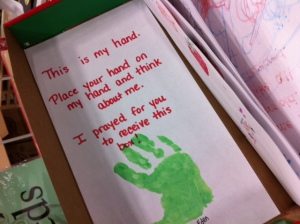 While we were working last Saturday, the entire processing center took a break and heard a testimony from a young woman who had been a shoebox recipient. She too was from Honduras. She had grown up in an orphanage when she received a shoebox, and was thrilled to get a toothbrush. Before she had her own, she'd had to share one toothbrush with 25 other children.  She also had a package of 10 pencils in her shoebox. A treasure, because she was given one pencil a year, and it was expected to last her through the year. She hid her pencils in fear that someone would take them. It was through this shoebox that she realized that someone cared about her and that Jesus loved her. God has big plans for this little girl who lost her family. She earn a soccer scholarship to attend college in the U.S. and is currently enrolled in medical school.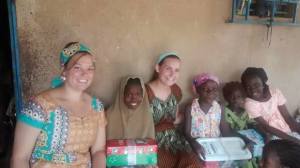 My niece, Terra served as a missionary in Niger, Africa last year and she has participated in the shoebox ministry for several years at home.  She was delighted that the children she was working with in Africa. They were chosen because they were attending her Kid's Club and learning about Jesus.
I hope you'll consider putting together a shoebox next year. You will bless someone. Remember each box is for a person. A child who has next to nothing. But the most important gift he or she might receive is Jesus.