By Rose Allen McCauley
Thanks to Shelia Stovall for inviting me to her garden. I hope she doesn't mind me tweaking her brand a little because my story in the eBook collection Home for Christmas fits right in with her brand.
God is a God of second chances which is the reason we celebrate Christmas-when he sent His Son to be born in a stable to live a sinless life so He could atone for our sins. That is why I love to read and write stories about second chances. Hope you will enjoy this summary of my book Christmas Grace and a recipe from the book Always remember "Jesus is the reason for the season."
This collection contains 7 previously released novellas by the authors listed below: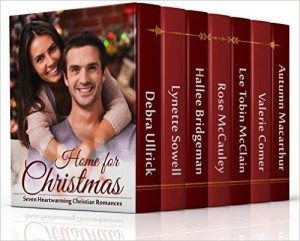 My novella is entitled "Christmas Grace" and is very special to me as the idea popped into my head while at the funeral visitation for my daughter's best friend in high school who died from kidney failure complications. The rest of the story is all fiction. It is about hope and second chances when my heroine, Grace, gets re-acquainted with Chris, who along with Terrie (his deceased wife) were all best friends in high school. They are both in Gatlinburg for Christmas and to plan their 10th reunion. While together they reminisce and start to have feelings for each other.  Can they let this relationship develop?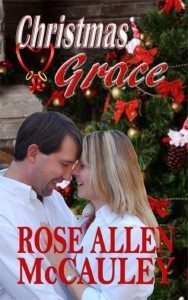 This cover is also special because my daughter and son-in-law are the models on the cover!
Since the stories have all been published before we are able to offer it for the special eBook price of only 99 cents, which has helped it climb to #1 in 3 categories on Amazon Kindle! Hope you can order it and enjoy lots of Christmas reading! Or you can read below how to win a copy on my blog!
That's all for now, since I want to save room for the delicious dessert that is included in the book.  Merry Christmas everyone, and happy reading and eating!
To buy "Home for Christmas," click on the attached link:
http://www.amazon.com/Home-Christmas-Heartwarming-Christian-Romances-ebook/dp/B015HLUPRE/ref=sr_1_1?s=books&ie=UTF8&qid=1449278107&sr=1-1&keywords=home+for+Christmas+by+Rose+McCauley
 No-bake Christmas Crumble Recipe
Crust:
2 c. almond flour
1 ½ cups oats
½ t. salt
1/4 c. coconut oil (melted)
12 Medjool dates, pitted and chopped
Filling:
25-30 Medjool dates, pitted and chopped
½  c. + 1 T water
Topping:
1 c. chopped walnuts
½ cup slivered almonds
1 c. shredded coconut (can tint half the coconut red and half green for Christmas Crumble)
Directions:
Grease a cookie sheet (around 10.5 in. x 15). In the food processor or blender, blend almond flour, oats and salt until the mixture crumbles. Add dates and process again until a crumbly mixture forms. Add the melted coconut oil and process until sticky. Remove mixture from blender. Save ¾ c. mixture for topping, and press the remainder of the mixture firmly onto the cookie sheet.
Process the 25-30 dates with water until paste forms, scraping sides often. Spread all the date mixture onto the crust with a wet spatula.
Sprinkle the saved ¾ c. mixture and press down, then sprinkle walnuts and press down. Sprinkle slivered almonds and shredded coconut and press down.
Chill for several hours until firm, then cut into squares. Refrigerate until eaten or can be frozen.
About Christian Author, Rose McCauley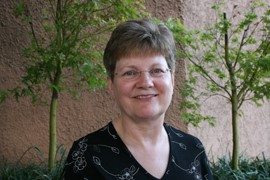 Rose McCauley is a Christian author and speaker. Her experiences as a public school teacher, Sunday school teacher, Girl Scout leader, MOPS mentor and Moppet worker, scrapbooker, wife, Mom and Grandmother give her a wide field of ministry to women. She supports missions and has been privileged to spend time on three mission trips.
Rose has been happily married for over 40 years to her college sweetheart. They lived and raised their family of two daughters and a son on a farm of rolling hills in the Bluegrass region of Kentucky , but recently moved to Paris, KY. Their family is growing with the addition of a two sons-in-law, a daughter-in-law, and five grandchildren who are definitely GRAND!
Rose's Website: www.rosemccauley.com She has a giveaway going on her blog this month. All those who sign up for her blog or newsletter or click her FB or Twitter icon on her page can earn one chance for each sign-up/click. You must leave a comment on her blog to let her know which things you clicked so she knows how may times to put your name in the proverbial hat for a drawing on Dec. 20th for a copy of the eBook Home for Christmas. If you win, you can spend the rest of the month reading her novella Christmas Grace and novellas by 6 other authors!
Facebook: http://on.fb.me/1IummD3
Twitter: @RoseAMcCauley
Fiction available in print and kindle:

Christmas Belles of Georgia (Barbour)
http://www.amazon.com/Christmas-Belles-Georgia-Romancing-America-ebook/dp/B0067D8IUS/ref=sr_1_1?s=books&ie=UTF8&qid=1449278489&sr=1-1&keywords=christmas+belles+of+georgia+by+rose+mccau
Christmas Grace
Non-fiction books: listed on website
Fiction available in eBook only:
Home for Christmas
Surrender to Peace (to be released in print early 2016 by Olivia Kimbrell Press)
Also to be released in July, 2016: The Courageous Brides Collection by Barbour
#ChristmasGrace #HomeforChristmas #ChristianRomance