The holidays can be the most stressful season of the year.  It's rare for me to lose my temper, but last week I experienced a tantrum so violent, I'm amazed my hair isn't  scorched. Considering the season, you might assume this happened while I was shopping in the Christmas hustle, but you would be wrong. It happened during my morning quiet time with the Lord. I was alone, with my Bible, and there should have been no distractions. But something had been bothering me, and I decided to take care of it.
A few years ago, because of my failing eyesight, I bought a large-print Bible. I'd used the same Bible for years and it's still a special treasure because it was a Christmas gift from my Mom.  It contains years of study notes and written prayers. But the print is tiny, and I can't read it without glasses, and vanity caused me to buy a new Bible rather than wear glasses constantly.
I spent a long time studying the different selections of large-print Bibles.  The store where I shopped specialized in Christian materials so I had many versions from which to choose.  Finally, I selected an ESV Bible with a burgundy leather cover, and gold trim on the pages. I planned to use this Bible for a lifetime and I thought it appropriate to have my name embossed with gold letters. The clerk informed me it would take about an hour so I left it with them while I went to lunch.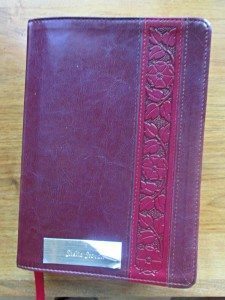 When I retrieved my Bible, the store employee had a look of trepidation and said, "The leather was too thick to emboss, so we imprinted your name on a gold plate and applied it." She tentatively offered me my Bible, and I inwardly cringed and thought. I'd rather have a plain Bible than this. But the damage was done, so I did my best to show grace, and took my package.
I've used this Bible for three years and the gold on the plate started to peel away. The offending label bothered me as I studied my prayer list, and my fingers started working at the gilt edge. In an instant, I yanked the nameplate off. When I did, I discovered something ugly. Hidden under the shiny gold plate, was someone else's name. The glue from the plate removed some of the gilt lettering, but it looks like "Shelia Johnson" and my name is "Shelia Stovall."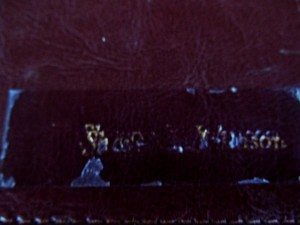 The realization of the clerk's mistake, her blatant lie, and the covering of that lie with a gold plate caused my temper to ignite to the heavens.
I spent the day in torment, and visualized returning to the store with my head held high. But as I pondered what I'd say, I began to wonder if anything could satisfy me. My Bible contains precious notes and prayers. It's travelled with me to Africa and the thought of giving it up caused a shadow to pass over my heart.
People use the phrase, "What would Jesus do?" so often, it's almost become a cliché, but that's the question I asked, and I knew the answer. He'd show grace.  I don't want a new Bible and I don't want to look at someone else's name and be reminded of how I'd been hoodwinked. Looking at the damage still causes my temper to simmer. And then I remembered Grace has covered my sin. I decided to ask for a new plate embossed with "Grace."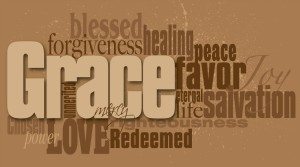 When I returned to the store to ask for such a plate, the clerk explained they no longer use them. I sighed, and said, "Thank you." I'm sure I can buy such an item somewhere else.  In the meantime, it still bothers me that the cover of my Bible displays someone else's sin. But as I've looked at it this week, it occurred to me perhaps this is how Jesus feels when he sees my sinful nature.
During this season, there will be many challenges to show grace. My prayer for you is that whatever the circumstance, you will remember the gift of grace that has been freely given to you and because of the Holy Spirit that lives in you, you will be able to offer grace.