A few weeks ago,  I posted of my search for a Mississippi Mud Cake recipe. A family member, who is battling an illness, reminisced  about his granny preparing this special dish.  My niece, Terra, claims that her Aunt Alma Lee makes the best Mississippi Mud Cake.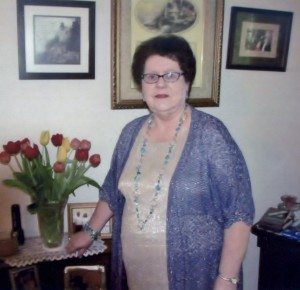 In the south, we like to know family connections, so I'll explain my family tie. Terra is my sister's daughter.  Alma Lee is sister to Terra's paternal grandmother, Lila. I'm sure many of my Scottsville, Kentucky friends have enjoyed Alma Lee's special dessert.
This picture of Alma Lee was taken on her birthday.  The tulips on the table give this secret away, because Alma's son always sends a bouquet of her favorite flower on her birthday.
I'm sending a cyber-hug to Alma Lee for sharing her recipe.
Aunt Alma Lee's Recipe for Mississippi Mud Cake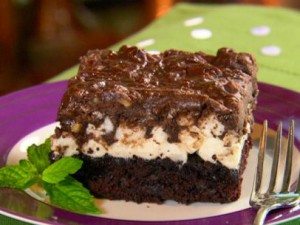 Cake Ingredients
2 cups sugar
1 cup oil
4 eggs
1 ½ cup plain flour
¼ teaspoon salt
1/3 cup cocoa
3 teaspoon vanilla
1 cup chopped nuts
12 ounce bag of miniature marshmallows.
Frosting Ingredients
1 1/2 stick unsweetened butter
1/3 cup cocoa
1/2 cup milk
1 teaspoon vanilla
1 lb. Confectioner sugar
1 cup nuts
Cake Directions
Mix sugar, oil, eggs, flour, salt,cocoa, and vanilla together; add nuts. Pour into greased pan and cook for 30 minutes at 300°. When done, turn off oven; remove cake and cover top with miniature marshmallows. Return the cake to the warm oven while  you make the frosting.
Frosting Directions
Mix butter, cocoa, milk, and vanilla. Cook over low heat while you slowly add 1 pound Confectioner sugar. Mix well and add 1 cup nuts. Spread over cake while hot.