We demolish arguments and every pretension that sets itself up against the knowledge of God, and we take captive every thought to make it obedient to Christ. 2 Corinthians 10:5 NIV.
The women of my church gather each Christmas season for a dinner and ornament exchange. Through the years, I've accumulated a treasure trove of fond memories and beautiful ornaments, but decorating my tree is a bittersweet experience as many of my keepsakes are from friends and family who have moved on to their heavenly home.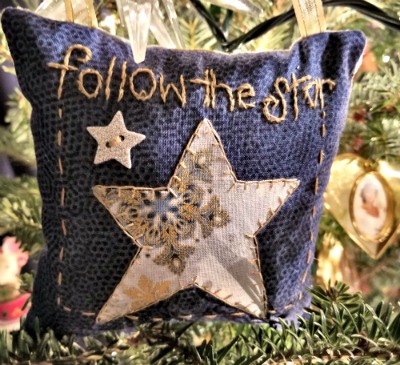 This year, I unwrapped a handmade ornament with "follow the star" embroidered into the fabric. I'm reminded of the Wisemen who followed the light to discover a king, born in the most humble of environments. For generations, thousands continue to seek His light, and I'm thankful someone shared the story of the greatest gift ever given to mankind with me.
December can be a dark time for many of us as our hearts yearn for what we cannot have. But as I look at the simple brown thread stitched into the words, follow the star, I'm reminded of Jesus and His light. I've struggled with sad thoughts, and a to-do list longer than my arm. My heart is heavy as I lift the names of five friends battling cancer. What's amazing, is that each of these friends' faces are filled with joy and peace. They have not allowed their difficult circumstances to affect their spirits. Someday, my flesh will fail, but with Jesus, I have all that I need.
As I meditate on the words, follow the star, I'm making a commitment to capture my thoughts. Each day is a gift, even the dark days of December. May we all be like the Wisemen, and seek the light that cannot be overcome by the darkness.
Father, Thank you for Jesus, the Light of the World, My Savior, and Redeemer.