Last week I attended the American Christian Fiction Writers (ACFW) conference hosted at the elegant Omni Hotel in downtown Nashville, Tennessee. https://www.omnihotels.com/hotels/nashville/property-details/gallery
A week early, I'd stood in the schoolyard of an African village and measured the arms of women, infants, and children for malnutrition to verify the eligibility to receive a vitamin supplement. As I measured, I prayed for the child's health, while mothers probably prayed her son or daughter would qualify for the vitamin supplement. Can you imagine wanting your child to be considered malnourished?
The culture shock of returning home from Africa is always a challenge, but my head spun as I sat in the five star hotel banquet room with a filet mignon on my plate and remembered one child in particular who was limp when I measured his arm. Most of the women and children we met were healthy, but I can't forget the few who were not. Another team will visit in September. I pray they will find healthier children.
We'll never have enough food to distribute, nor enough medicine to heal the sick in Africa. But we can share the living water, the bread of life, with everyone and give them the hope of eternal life in heaven. That's why I go to Africa and I have to focus on that mission or I'll become discouraged.
On my drive home Friday evening from the Omni, I took the wrong exit off the parkway and ended up in a neighborhood that made me uncomfortable. A group of teens stood under a streetlight and yelled at me as I passed. It didn't take long for me to turn around and return to the parkway. A week earlier, I'd walked through an African village, surrounded by Muslims, and I felt completely at ease.  But here, at home, fear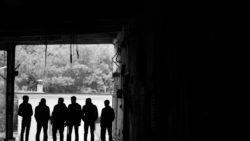 clutched my heart. What if, I had treated the young men who yelled at my car the same way I treat the people in Africa. What if, I'd rolled down my window and said, "I'm a Christian, and I'd like to tell you about Jesus."  I pray for the day I'll be a bold witness wherever God leads me. The lost are all around us. I pray that all Christians will rise up and share the gospel. "So that we may boldly say, 'The Lord is my helper, and I will not fear what man shall do unto me.'" Hebrews 13:6