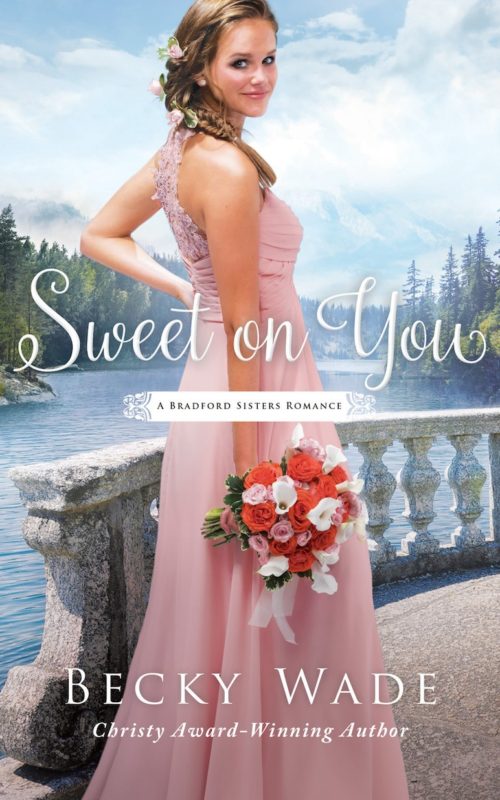 Becky Wade's newest novel Sweet on You is the perfect escape for a lazy summer afternoon. Warning!  Do not open this book without first stocking up on your favorite chocolates. Britt, the adventurous heroine, is the owner of a small-town chocolate shop, and the descriptions of the experimental recipes will make you yearn for something decadent to eat.  I made the mistake of starting the book on a boat, in the middle of the lake. I'd only packed fruit and nuts for snacks. Oh, how I suffered.
I loved that Britt and Zander share a deep friendship (something both are afraid to risk for romance.)  The author wove layers of other romances throughout the story.  The bonus of a mystery surrounding the death of Zander's uncle heightened my interest.
I highly recommend this book for a fun escape  into romance and mystery, set in Washington State.  Don't forget to stock up on your favorite chocolate treats to savor as you turn the pages.
Becky was kind enough to share one of her favorite dessert recipes and included links to buy the ingredients if they're not in your pantry. It's the perfect recipe for May in Kentucky as the strawberries are fresh and wonderful.
I can't wait to try it out.  Let me know if you do too.
Strawberry Blueberry Paleo/Vegan Cobbler
Filling:
Topping:
Instructions
Preheat your oven to 375 degrees. For this recipe, you can use one 9" baking dish or pie dish, or two smaller dishes, as I did.
Place berries in a large bowl and sprinkle with lemon juice, then toss with the remaining filling ingredients until absorbed. Place in the baking dish or dishes evenly.
In a medium bowl combine all topping ingredients (order doesn't matter) and stir well until a thick batter forms.
Using a spoon, dollop the topping evenly over the filling leaving space around the perimeter. Place dish or dishes on a large baking sheet (to catch any drips) and bake in the preheated oven for 25-30 mins or until filling is bubbling and topping is golden brown.
Serve warm or room temp topped with coconut vanilla ice cream if desired. Enjoy!
About the Author:
Becky's a California native who attended Baylor University, met and married a Texan, and settled in Dallas.  She published historical romances for the general market before putting her career on hold for several years to care for her three children.  When God called her back to writing, Becky knew He meant for her to turn her attention to Christian fiction.  She loves writing funny, modern, and inspirational contemporary romance!  She's the Christy and Carol award-winning author of My Stubborn Heart, the Porter Family series, and the Bradford Sisters Romance series.